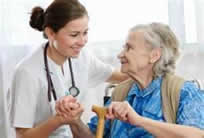 Below is a list of our current job openings. Specific instructions for applying for a position may be in the job listing.
If specific instructions are not given in the posting, you can apply several different ways:
1. Mail your resume to: Area Agency on Aging of Western Arkansas, Inc., 524 Garrison Avenue, Fort Smith, AR 72901
2. Apply in person at the address above, Monday-Friday, 8:30am-4:00pm
3. Email your resume to applications@agingwest.org
4. You can click here to fill out an online Employment Application that will be emailed to our Human Resources department
Questions? Call our Human Resource Department at (479) 783-4500
If you have applied for a position and have not filled out an EEO-1 Voluntary Self-Identification Form and would like to do so, you can click here to fill out an online EEO-1.
Area Agency on Aging of Western Arkansas, Inc is an equal opportunity employer. To file a complaint of discrimination, write USDA, Director Office of Civil Rights, 1400 Independence Avenue S.W., Washington, D.C. 20250-9410 or call (800) 795-3272 (voice) or (202) 720-6382 (TTD).
Area Agency on Aging of Western Arkansas, Inc uses E-Verify to confirm U.S. employees' eligibility to work.
E-Verify Participation Poster-English
E-Verify Participation Poster-Spanish
Right To Work Poster-English
Right To Work Poster-Spanish
Current Job Openings
Home Health Aide/ CNA

(9/11/2015)

-

We are looking for caring, compassionate individuals desiring to help your local area. We are offering a flexible schedule, up to 28 hours per week, competitive pay and the ability to grow within the Agency. Home Health Aides and CNA's are need immediately! Sebastian, Crawford, Ozark, Logan, Polk and Scott Counties Paid Training If you would [...]
Non-Emergency Transportation Driver

(9/11/2015)

-

Do you enjoy helping others? Drivers are needed for  our Non-Emergency Transportation Program. Openings vary in Sebastian, Crawford, Franklin, Scott, Logan, Polk, Johnson, Yell, Pope Counties No CDL is needed, we encourage Veterans to apply. 28 hours per week Monday to Friday Apply on-line at www.agingwest.org

Staff RN Fort Smith Office

(9/11/2015)

-

Full Time Staff RN Fort Smith Office Daily travel required – Agency provided vehicle and fuel. Mon – Friday 8-5 On-Call as assigned paid in addition to salary. Health/Dental/Vision Life Insurance 403(b) Retirement plan. Generous Paid Time Off Holiday Pay Apply on line.